Chef Mike has always enjoyed gardening and since taking the reins of the kitchen, he has expanded his love of gardening to the next level to achieve a Farm-to-Table menu.
At Fox Hill Bed and Breakfast, we grow many of the fruits and vegetables served in our breakfast dishes.  Chef Mikes Vegetable Egg bake consists of multicolored sweet peppers, tomatoes, spinach, broccoli, corn, and any other fresh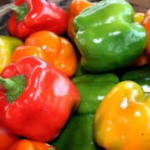 vegetables 
that are ripe and ready to eat.  Fresh made salsa/stewed tomatoes are the star of Chef Mike's version of the Middle-Eastern dish Shakshuka.
Innkeeper Cathy uses the abundant zucchini, strawberries, and blackberries grown on site for her scrumptious baked goods.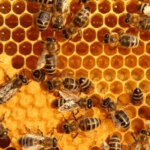 Having bee hives located on the property also helps provide us with an abundance of produce. Although we do not own them, the local beekeeper manages the hives and provides us with pollinators and fresh honey.  You can see the hives as you turn into the inn's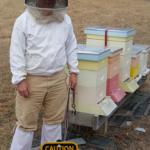 driveway.  The honey served in your breakfast is a by-product of the workers living in the hives at the end of our driveway.  Even the bees must pay to stay!
Throughout the growing season, we travel to the local U-Pick farms and gather as much as we can haul. Typically, we pick 50 pounds of various fruits, providing fresh flavors in new and tried-and-true recipes, plus we freeze plenty to enjoy throughout the winter months.
Last season, we picked over 50 pounds of delicious Blueberries from a well-cared for Blueberry Farm in West Virginia.  We traveled over the Blue Ridge Mountains to Crozet and gathered up over 45 pounds of sweet Peaches. We spent a Fall afternoon at a Lovingston apple orchard picking and dreaming of apple pie!  While we did not pick them directly from the trees, we did sample and bring home a few of the many 16 varieties of Asian pears from The Virginia Gold Orchard, right here in Rockbridge County.
The Farm-to-table concept is a social movement to promote serving local food at restaurants, schools & INNS preferably through direct acquisition from the producer. At Fox Hill B&B, since we grow our own, we know exactly where, what and how our "good eats" are grown.
Farm-to-table incorporates food traceability (celebrated as "knowing where your food comes from") where the origin of the food can be identified to our guests. When visiting during the growing season, guests can actually see the ingredients growing.
Farm-to-Table also applies to our Bacon and Sausages as we procure our pork locally.  Fresh pork shoulder for the sausages and fresh Pork Belly for our well-reviewed and requested Maple-Bourbon-
Cracked Pepper, Applewood smoked bacon.  It's a three-week "labor of love" process for Chef Mike to make the bacon and he only smokes 10 pounds at a time.  As for the sausages, they are handmade; no two are the same size but every bit delicious.
Even our four-legged guest's get the Farm-to-Table experience! We provide treats from Whistle Creek Treats, a local premium  Farm-to-Table Pet Food provider.  They produce high quality treats and pet food utilizing locally sourced, 100% human grade ingredients.  Each treat is free from corn, wheat, soy, artificial flavors, chemicals, or colors.
Therefore, for the Farm-to-Table experience not found at every bed and breakfast, a visit to Fox Hill Bed and Breakfast Suites will surely satisfy that need.