Up, Up, and Away!  Balloons over Rockbridge County, VA

Colorful hot air balloons are such a treat to see floating effortlessly in the blue sky.  Sometimes they're overhead close enough you can hear the whoosh of hot air filling the balloon as it travels by.  Have you thought to yourself, boy-I'd sure like to do that one day.  It looks both scary and fun!  Sure but there are other questions that soon follow … how fast do they go, how far do they travel, how do they come down, how safe are they, what do I do when I'm inside the basket?   Well you'll get your chance to get some of those answers and even take a ride at the
Balloons Over Rockbridge Hot Air Balloon Event held on July 6-7, 2018 across from the Virginia Horse Center at Oak Hill Field, Maury River Road, Lexington, VA.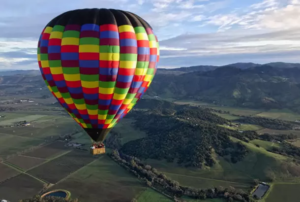 Here are two hints about a balloon flight:  #1 riding in a hot air balloon is smooth sailing as the basket hardly sways.  #2 ballooning is addictive-once you land, all you can think about is going up again!
Hold onto these facts for trivia night:  Hot air balloons were developed in the late 18th century and are still used today.  Who were the first hot air balloon passengers?  In 1783, an odd assortment of animals was chosen to test the effects of flight – a rooster, a duck, and a sheep.  During the Civil War, balloons were used to spy on enemy movement from as far as 15 miles away.
At Balloons Over Rockbridge there will be 12 beautiful balloons (they all have names – how cool is that?) and you'll get to meet their respective pilots.   Balloon flights will occur on Friday evening and Saturday morning.  Tethered balloon rides will begin on Saturday afternoon.   In addition to the balloon rides, there will be plenty of live music,
food, drinks and vendors.  For early morning folks, there will be an 8am  5K walk/run through the rolling hills  of the Blue Ridge Mountains & Virginia Horse Center with hot air balloons flying above. This event supports the local chapter of the veterans support group TeamRWB.org. The course will be grass and some gravel.
If you prefer a more private flight for your first balloon ride, we suggest Monticello Country Ballooning.
They offer sunrise or sunset flights.
The view, described by all riders, is 360 degrees of spectacular.
For more information about the Hot Air Balloon Event, click this balloon
    Up, up and away!