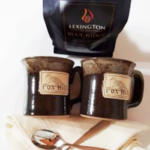 A 12oz package of local Lexington Coffee Roasters Blue Ridge Blend (an aroma of citrus, nut and cocoa; body is medium and creamy; flavor of sweet cocoa, nut and citrus with a syrupy chocolate finish) and two stoneware Fox Hill mugs. Great for guests in our Kitchen Suites.
Souvenir Fox Hill Mugs $22.00 each or 2 for $40.00 + tax.
Coffee and two Fox Hill Mugs $58.00 + tax.